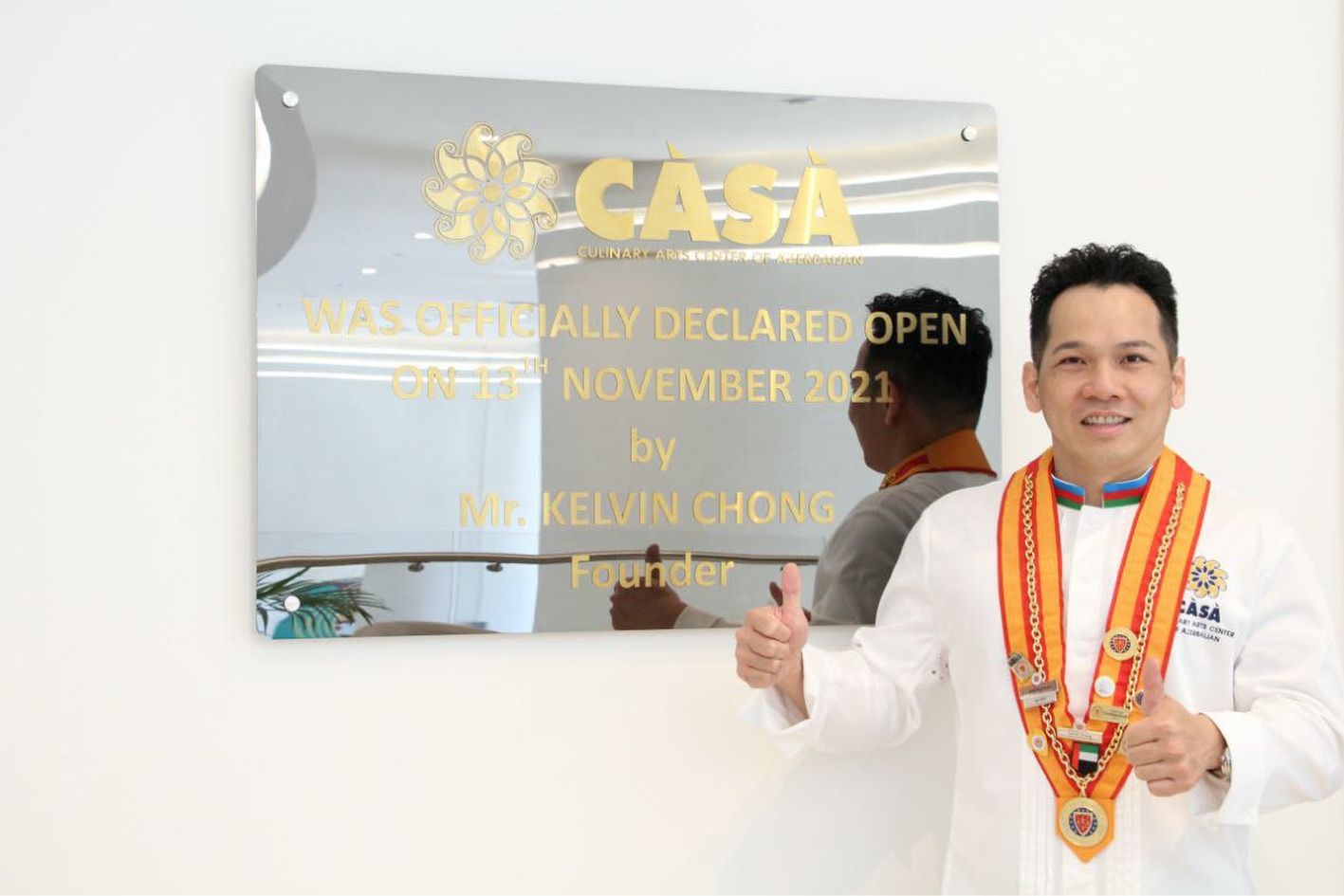 Chong Heng Ho "Kelvin" is a world-renowned culinary art professional specialising in a wide array of cuisines, including European, Asian, Mediterranean both traditional and modern cuisine.
Having worked for nine years as private Chef to the President of Azerbaijan and his family Chef Kelvin is now Director and Founder of the CÀSÀ Baku, Culinary Arts Center of Azerbaijan. The first private culinary centre in Azerbaijan it offers a wide range of programmes. These cover all aspects of the culinary world - cookery, patisserie, artisan, and amateur programmes. CÀSÀ complements its exquisite programmes with state-of-the-art equipment and facilities to ensure students receive a well-rounded experience on all levels.
Age 13, due to his father's inspiration, Chef Kelvin started his culinary journey. His comprehensive history in the culinary world extends back more than two decades. When a young boy, he helped out in the family restaurant. He furthered his study by taking a Diploma and Master of Cuisine at the "École Ritz Escoffier," Paris, from where most of his influences come.
Chef Kelvin's versatile character has enabled him to accumulate significant experience in culinary and hospitality management through his extensive repertoire.
He was the coach for the national culinary competition in Azerbaijan. One of his students received the Medallion of Excellence award at the World Skills Special Edition in Switzerland in 2022.
We asked Kelvin who is the best chef for whom he has worked. He replied Jason Iasonas, and Chef Bruno Cerdan.
Chef Kelvin's favourite restaurant is a seafood restaurant in Singapore and Sabor restaurant in London; the food is excellent, classic with reasonable prices. In UAE Hakkasan Restaurant Abu Dhabi is his favourite establishment as the food always remains at the same standard and is consistent.
The professional goal for his next five years is to provide local Azerbaijani talent with the opportunity to develop fine culinary skills through CÀSÀ which will help meet the growing demand for skilled/trained local chefs. Elevate Azerbaijan cuisine to a whole new level and pin it on the global culinary arts map. Chef Kelvin's aim is to give the students a chance to achieve the highest level of academic excellence in culinary education through a hands-on approach. Excellent foundation so they are well-prepared to work wherever their career takes them.
Frederik Haentjens
Chargé de Presse