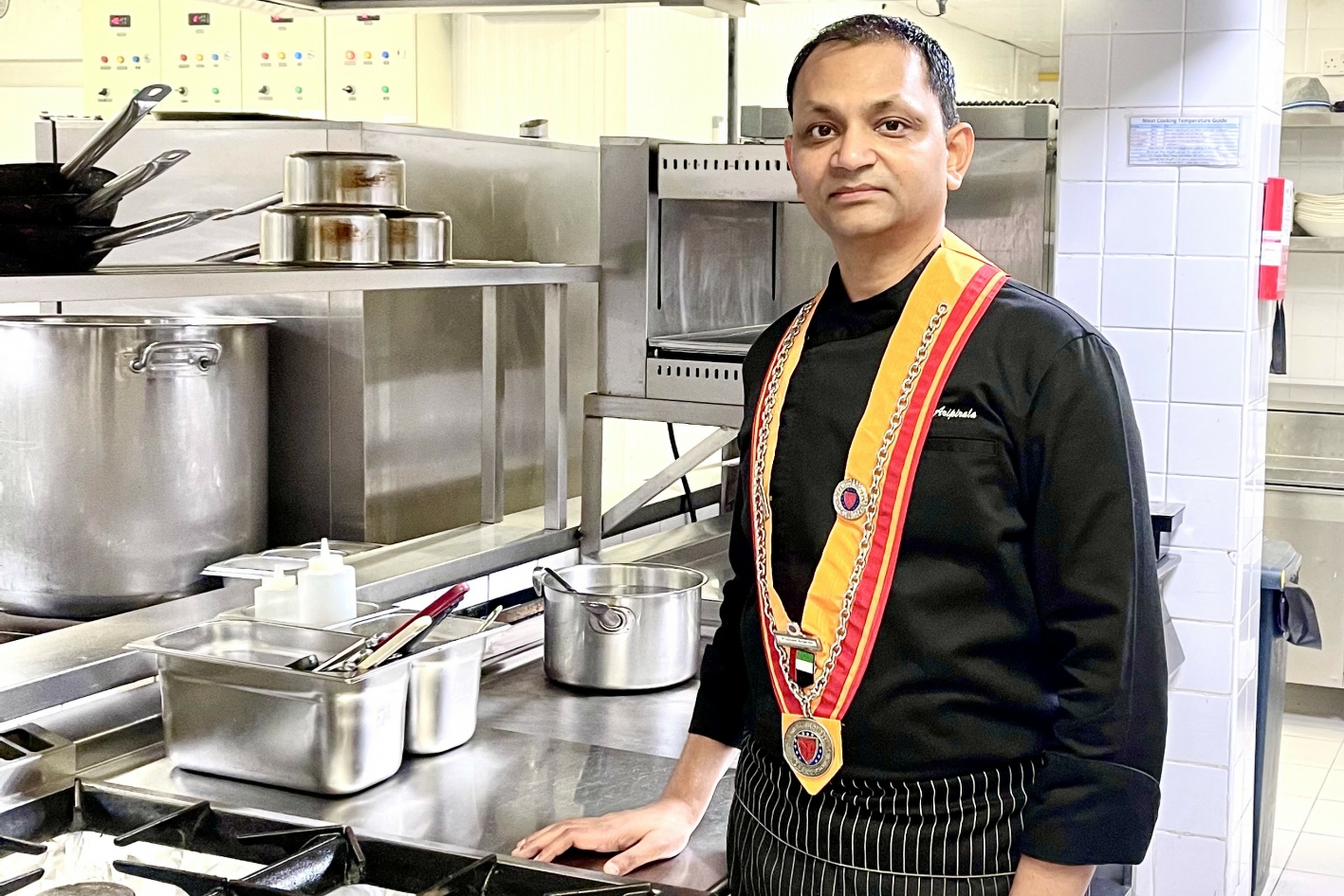 Always passionate about the culinary arts at 18 Maître Rôtisseur Prashant Aripirala decided to pursue a career as a Chef. With over 25 years of practical experience under his belt, Prashant has honed his skills gaining a reputation as a calm, composed leader in the kitchen. He completed six years of internationally recognised education specialising in Culinary Arts.
Notable on his CV are:
- from Assistant Cook at Cruise lines to Group Executive Chef at Holiday Group Ajman
- Senior member of the Emirates Culinary Guild
- UAE Executive Chef of the Year 2021 "Free Standing Restaurants" - Silver
- Best Chef 2022 by the Gulf Achievers Award
- Best Sustainable Dessert at Gulf Food Manufacturing UAE in 2021
About the man: he enjoys dining out, trying new foods with a soft spot for street food. No favourite restaurant although he would love to dine at The Fat Duck, El Bulli (whenever they decide to open it again), French Laundry, and Alinea. Favourite meals are those cooked by his wife and mother. Favourite local ingredient: green chilies, he enjoys using fresh coriander and dried fruits always finding creative ways to present and cook food.
Prishant Aripirala has worked in 5-star hotels, Michelin-starred restaurants including Mandarin Oriental Singapore, Rotana Dubai, Emirates Leisure Retails Dubai, Burger & Lobster Dubai, and for Royal Caribbean Cruise lines.
Going forward, he aims to continue cooking, creating, learning especially exploring new flavours and techniques. His influences: other Chefs, listening to their journeys, watching food shows, and attending food expos. His five-year plan: travel internationally, manage a culinary team, become a Corporate Executive Chef for an international brand, continue mentoring young chefs, lead a team of 100 Chefs and win a Pro Chef competition.
With his strong passion for the culinary arts together with his calm, composed demeanour, leadership qualities and creative approach to cooking, make this highly skilled, dedicated Chef a valuable asset to any kitchen.
Based on an article prepared Frederik Haentjens, Chargé de Presse